We believe in improving Service members' lifelong outcomes by connecting them with quality credentials aligned with high growth careers.
---
To fulfill this purpose we:
Initiated a joint planning effort to align its future work with Department of Defense (DoD) VolEd's strategic priorities.

Began collaborating with industry, DoD, and higher education stakeholders and is working to launch its first Career Pathway Network pilot in Cybersecurity.

Will use the learning from the pilot to expand and add additional Career Pathway Networks over time.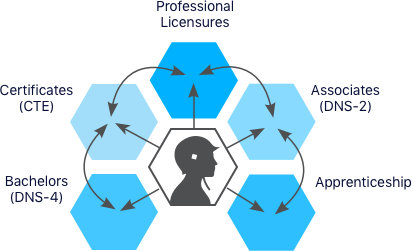 Will clearly communicate to Service members vetted options for preparing for, starting and promoting through a high-growth and high-demand careers when transitioning from military service to civilian life.

Will develop of a career roadmap that is mapped to a set of stackable education options with strong learner outcomes that build the skills and knowledge aligned with what industry employers seek when hiring and promoting.
View the full CCME Presentation Video >
---
SOC's focus is fully aligned with the strategic vision and mission of DoD VolEd
---
DoD VolEd Vision:
"Shape quality, voluntary education experiences to foster better Service members, better citizens"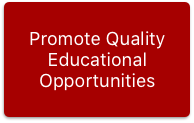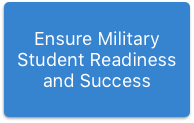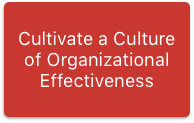 "Champion policies, programs, and partnerships that enable access to high quality post-secondary education opportunities, empower informed Service member decision making, shape meaningful personal and professional pathways, and drive military-student success in higher education"
---
SOC will help Service members make better investments with their time and voluntary education benefits that best prepare them for their goals.
---
Academic credentials most likely to support successful transition: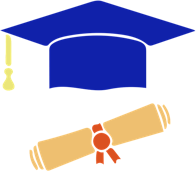 Demonstrate high alignment between curriculum learning outcomes and industry skills and knowledge requirements without compromising on learner engagement and development of the soft skills that produce an adaptive, critical thinking citizen.

Exceed DoD benchmarks for relevant postsecondary education outcome measures.
---
Credential-level Outcome Benchmarks:
Average Completion Rates for Part-time Learners within 8 Years of Starting Program

Part-time Learner Retention Rates

Average of 5-Year Loan Default Rates for Independent Payers

Course Pass Rates for Tuition Assistance Courses at Institution

Job Placement Rates in Field of Study within Six Months of Graduation
---
Our focus is aligned with America's broader skill gap challenge that impedes the growth of local, state, and national economies.
---
---
SOC's Higher Education Subject Matter Experts have written two white papers regarding current hot topics in Higher Education:
---
SOC is joining a larger conversation and set of interlinked initiatives that are happening across the nation.
---
Examples of current initiatives include:
---
Institutions with credentials that meet participation standards in all four of these areas will earn a SOC Certified Designation.
---
SOC Vetted Credential Designation: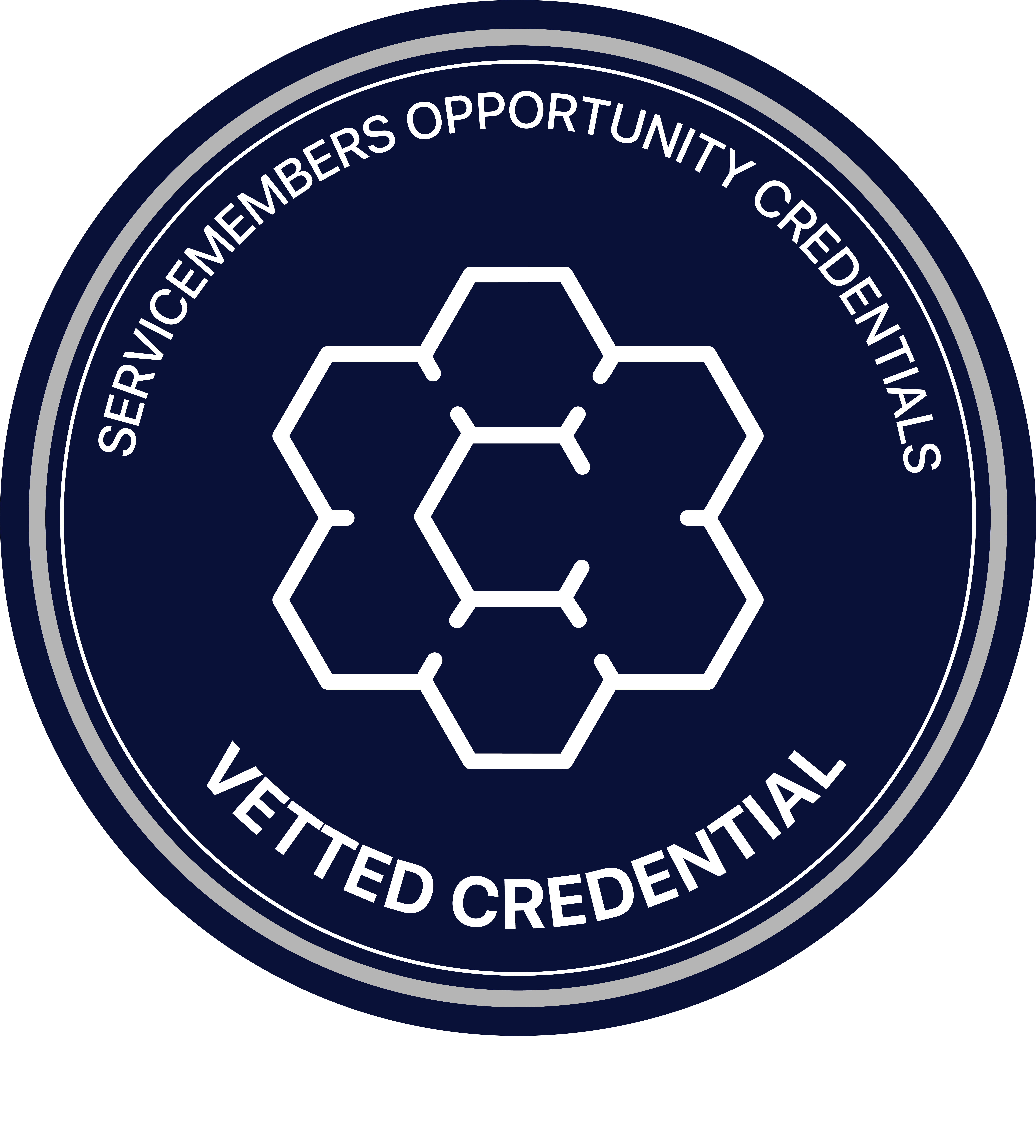 Defined Career Pathways: Has a progression model that helps Service members understand how they can start and progress within a high-growth career pathway based on their current skills, knowledge, and experience.
Trusted, Quality Credentials: Offered by DoD Voluntary Education Partnership Memorandum of Understanding (MOU) institutions that are aligned with a Career Pathway, have strong student outcomes using credential-level outcome benchmarks, and that demonstrate how curriculum closes employment skill and knowledge gaps.
SOC Certified Pathway Designation:
Stackable Credentials within a Career Pathway: Meet SOC Career Pathway Network criteria to define program-level articulation agreements to help Service members prepare for and promote within a career pathway.
Prior Learning Assessment for Military Education: SOC will work with DoD MOU credential providers that are part of a Career Pathway Network to provide more transparency and consistency in how they award ACE recommended credits for prior military course and work experience.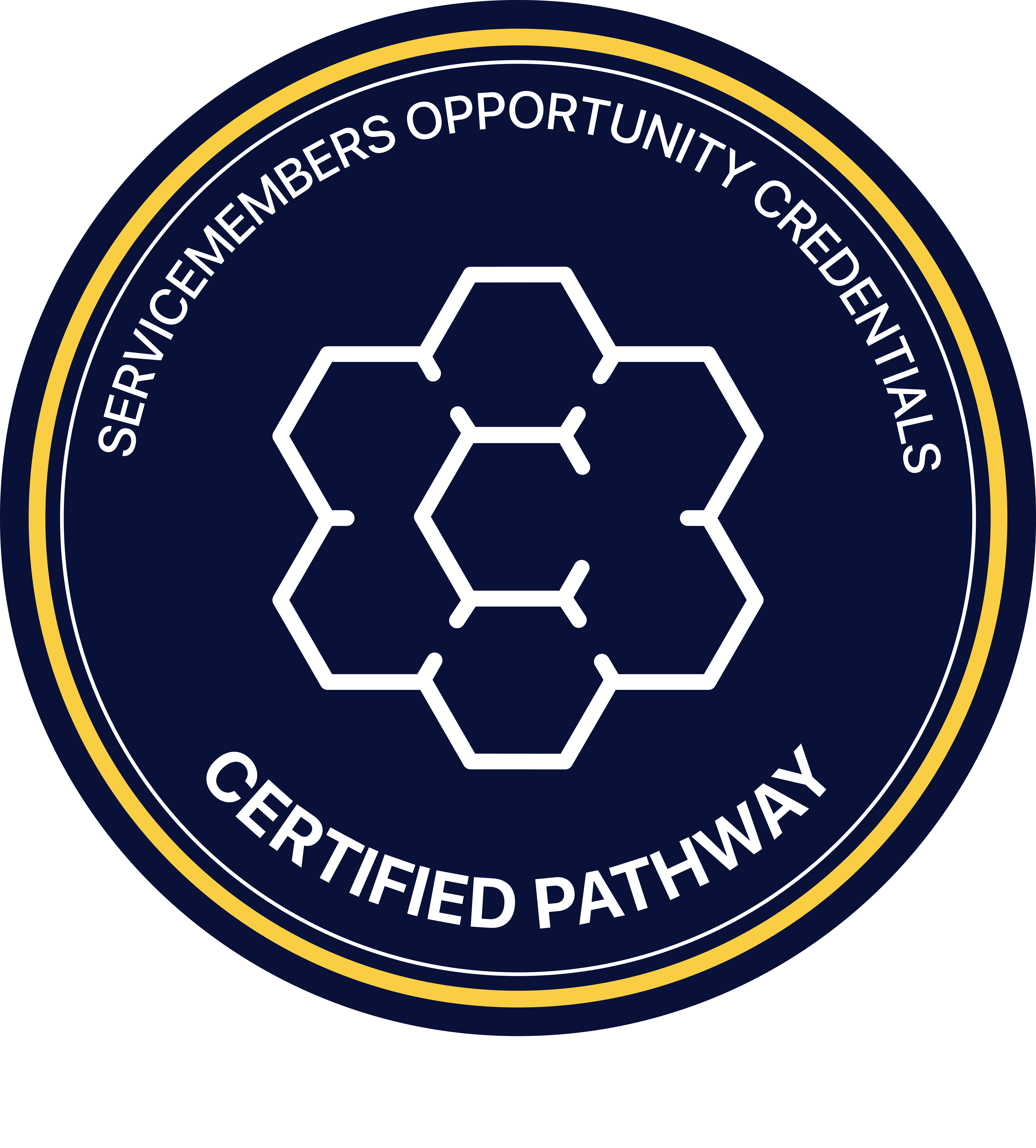 ---
SOC is currently launching its first Pilot Career Pathway in Cybersecurity and Silver Vetted Credentials. We look forward to co-creating with our pilot schools prior to opening up additional Career Pathways and will be sharing data from the pilot through our website and other DoD Voluntary Education sites soon.
Learn more about SOC's Modernization Strategy >
To share your ideas, interest, and feedback about our Strategy or the first Career Pathway Pilot in Cybersecurity.
CONTACT US
---